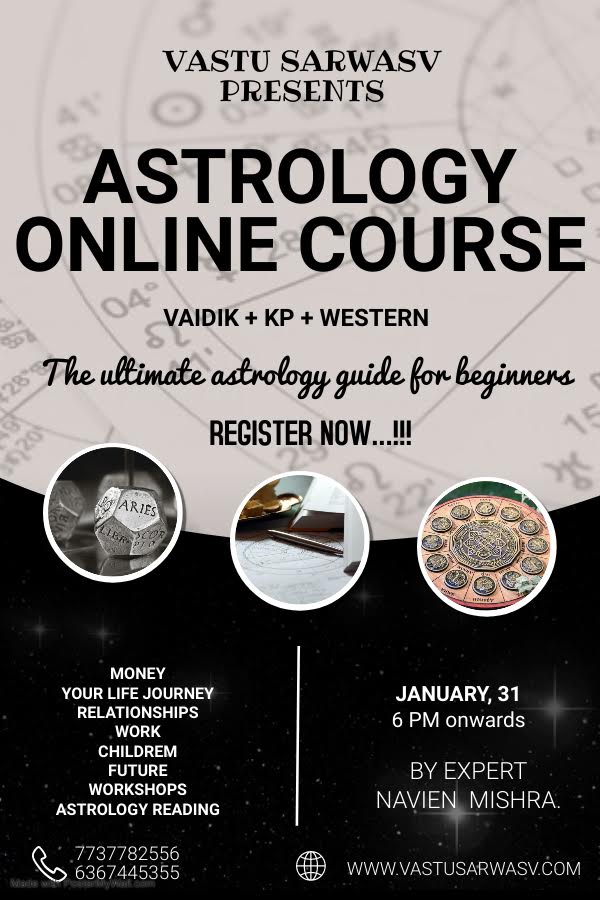 12 Days Astro Foundation Course
by expert Navien Mishrra

(Vedic + KP + Western)


Course Duration 12 Classes
12 Days Astro foundation Course enables you to learn a step by step procedure to read your horoscope and to get answers about money, health, marriage, job, children, relationship and business.
12 days Astro foundation course enables you to learn step by step procedure to read your Horoscope and to get answers to important questions about Money, health, marriage, job, children, relationship. This course is based on astro mapping (Categorizing everything in your environment into planet and Signs) to get insightful answers strictly in context with questions asked. This course enables you to decode Jyotish script step by step from your Horoscope.
This will answer your question about:
Why something happened with you ?
What will happen ?
When will it happen ?
How will it manifest ?
During this twelve days course, you will learn and get answers to
#what are key elements in Jyotish- planets, science , house, cost, aspect, Dasha and transit
#how each contacts of life is map with 12 houses
#how to understand your personality- physical and mental attributes.
#how bold and courageous are you
#how to improve health and cure disease, pain and weakness
#what is your best suited profession job, business or both
#how to predict accurate date of marriage, also concluding whether it will be love or arranged one
#how to decide favorable education for your children
#what is mantra for your life.
Course Fee Rs. 31000/-
Premium Astro foundation Course Powered by Vastu Sarwasv
Intrested In 12 days Astro Foundation Course
To register for the course Course Call – 96603779599 or 6367445355
OR
Fill This Form